Teamzet, a technical content writing company
Technical writing has wide applications, both in consumer products as well as in the industrial setting. Product success is dependent very closely on clear and detailed writing that outlines product specifications and directions for use. Through effective technical writing, you are able to provide context to your product and various processes involved with it.

Teamzet has a team of highly skilled technical writers and editors with tremendous experience in handling a variety of technical writing projects for leading technology companies around the world, including the USA, Canada, Australia, UAE and India. We offer you technical writing services as a complete solution – whether you need a writer for an instruction manual, product manual, documentation or any other freelance technical writing project.
Our technical writing service is powered by an elite team of writers that have been selected only after having demonstrated unmatched expertise in technical writing.
High Standards of Quality
We maintain rigorous standards when vetting the technical writers. Our writers have consistently maintained a high acceptance rate with minimal revision requests.
We are here for the long haul!
At Teamzet, we provide you with full service technical writing services on a long term basis to provide you with complete, thorough and up-to-date technical documentation. We have a pay-as-you-go model, so you don't have to pay a huge upfront fee to avail our services. Nor do we have hidden charges in any of our services. It's really easy to get started, so give us a call, send an email, or drop us a line, and we'll get right back to you.
Technical content writing FAQs
How long is a piece of string? Honestly, there's no right answer to this question, yet it's one that's asked time and time again. Content should be as long as it needs to cover a topic in enough depth to rank.
But that's not too helpful, is it? 
When creating content, you need to look at what already ranks. Analyze at least the top 10 pages to understand the page's intent and the approximate length to get an indication as to how long your content needs to be—looking for a helpful way to do so? You can use the SEO Content Template to help you to figure out this length. 
Enter your page's target keywords, and the tool will analyze the top-ranked pages and make a recommendation. 

But don't obsess over content length! You should focus your efforts on creating content that answers queries in the best possible way.
SEO-friendly content doesn't mean keyword-stuffed content, far from it.
The reality is that SEO needs to be an essential part of the content creation process if you want your content to perform well organically. So then, how do you create SEO-friendly content?
You start with keyword research to help you understand the terms people are searching for, determine search intent, the right format, and get your on-page SEO right.
You can learn all about the process of doing this step-by-step in our  How to Create SEO-Friendly Content guide.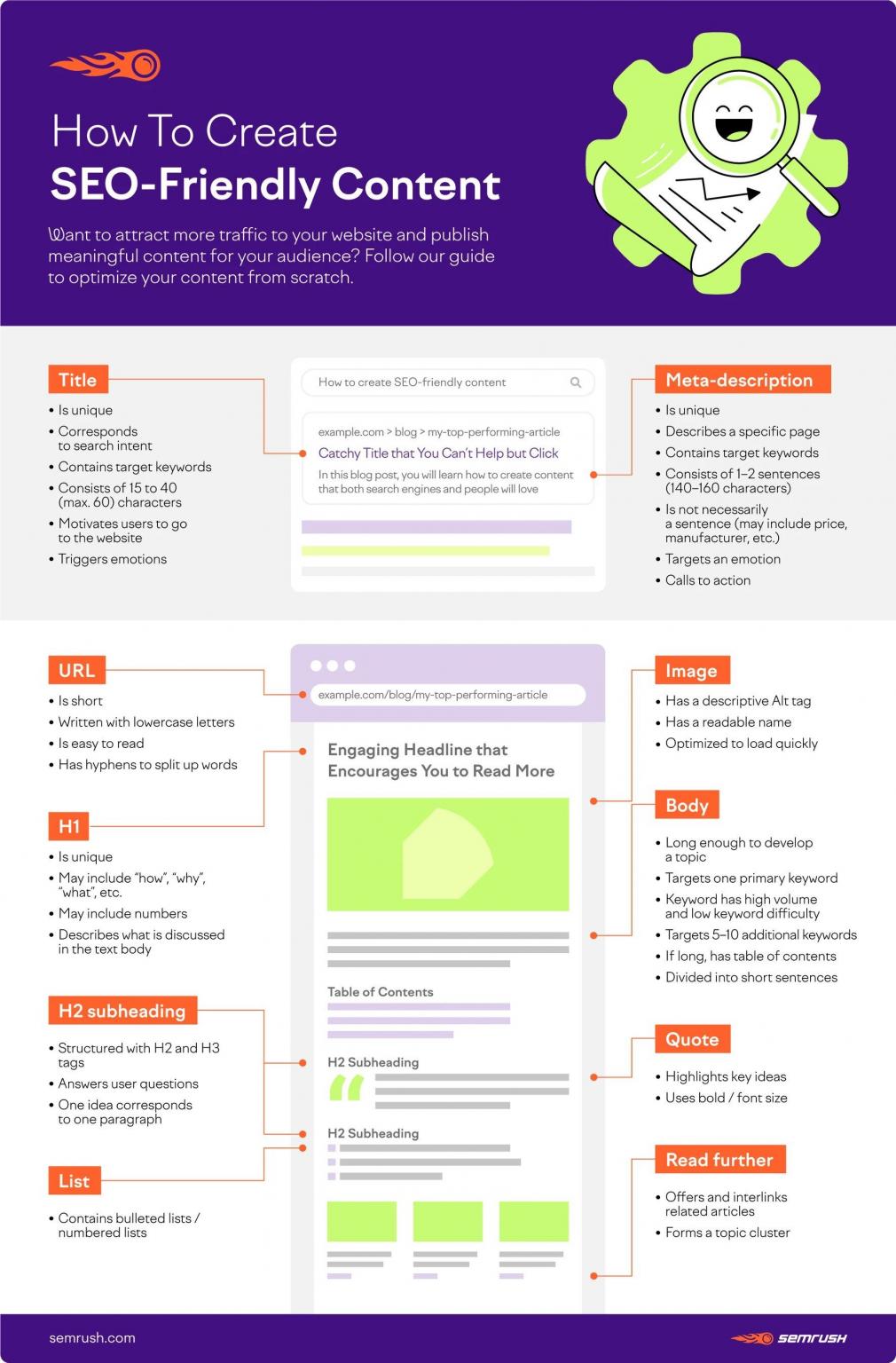 You've probably heard horror stories about duplicate content. Many SEO beginners are often confused and concerned about what this means. In simple terms, duplicate content is where content is duplicated either between two or more websites or two or more internal pages.
Here, content can mean written content, title tags, meta descriptions, or H1 tags. We found this to be one of the biggest SEO mistakes that marketers make in our recent study.
Our advice on this issue is as follows:
You should steer clear of duplicating any kind of content from any kind of site out there, whether they are a direct competitor or not. Look out for duplicate descriptions, paragraphs and entire sections of copy, duplicate H1 tags across multiple pages and URL issues, such as www and non-www versions of the same page. Pay attention to the uniqueness of every detail to make sure a page is not only rankable in Google's eyes, but also clickable in users' eyes. 
As a general rule, don't copy large chunks of copy from other pages on your site or elsewhere on the web, and you can't go wrong.
Link Building Questions
Backlinks remain one of the most hotly debated topics in SEO. But links remain an essential part of an SEO strategy, and we've put together answers to some of the most common questions.